Réfugiés syriens : soutenir les pays voisins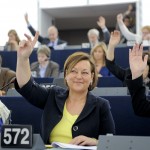 Nathalie Griesbeck est cosignataire d'un projet de résolution de son groupe parlementaire sur la situation des réfugiés syriens dans les pays voisins, qui devrait être débattu la semaine prochaine en session plénière du Parlement européen à Strasbourg. A ce jour, plus de 1 446 000 syriens ont quitté leur pays pour les pays voisins tels que le Liban, la Jordanie, la Turquie et l'Irak et les pays du nord de l'Afrique, selon l'estimation du Haut-Commissariat aux réfugiés (HCR). Lire la résolution ci-dessous.  
DRAFT MOTION FOR A RESOLUTION
on behalf of the ALDE Group
on Situation of Syrian refugees in neighbouring in transition
– having regard to its previous resolutions onSyria, in particular of 16 February and 13 September 2012;
 – having regard to the Foreign Affairs Council conclusions on Syria on 23 March, 23 April, 14 May, 25 June, 23 July, 15 October, 19 November and 10 December 2012, and of 23 January, 18 February, 11 March, and 22 April 2013; having regard to the European Council conclusions on Syria of 2 March, 29 June, and 14 December 2012, and of 8 February 2013;
 – having regard to the statements by the Vice-President of the Commission/High Representative of the Union for Foreign Affairs and Security Policy (HRVP), Catherine Ashton, on Syrian refugees, and in particular, the remarks of 13 March 2013 during the plenary debate in Strasbourg and statement of 8 May 2013;;having regard to the statements by the European Commissioner  for International Cooperation, Humanitarian Aid and Crisis Response, Kristalina Georgieva on the Syrian refugees and the EU's response, and in particular of 12 May 2013;  and to the « ECHO factsheets » on Syria;
 – having regard to the Security Council Briefings on Syria, by the Under-Secretary-General for Humanitarian Affairs and Emergency Relief Coordinator, Valerie Amos, in particular of 18 April 2013;
 – having regards to the remarks by the United Nations High Commissioner for Refugees, António Guterres, to the United Nations Security Council, in particular of 18 April 2013
 – having regard to the latest Syrian Regional Response Plan (RRP) January to June 2013, and all RRPs following the first one of March 2012, by the United Nations High Commissioner for Refugees;
 – having regard to the 2013 Syria Humanitarian Assistance Response Plan (SHARP), by the Government of the Syrian Arab Republic, prepared in coordination with the United Nations System, of 19 December 2012;
 – having regard to the Syrian Humanitarian Bulletins by the United Nations Office for Coordination of Humanitarian Affairs (OCHA);
 – having regard to the UN General Assembly Resolution 46/182, titled "Strengthening of the Coordination of Humanitarian Emergency Assistance of the United Nations" and the Guiding Principles in its annex;
 -having regard to the summary report of the High level International Pledging Conference forSyriawhich inKuwaiton 30 January 2013;
 – having regard to the Final Communique by the Action Group forSyria(the « Geneva Communiqué ») of 30 June 2012;
 – having regard to the Universal Declaration of Human Rights of 1948;
 – having regard to the Geneva Conventions of 1949 and their additional protocols;
 – having regard to the Convention on the Rights of the Child and the Optional Protocol thereto on the Involvement of Children in Armed Conflict; to which Syria is a party;
 A. whereas up to 6 May 2013 the Office of the United Nations High Commissioner for Refugees (UNHCR) has registered a total of 1,446,857 Syrian refugees in neighbouring countries and North Africa; whereas the total number of refugees, including those unregistered, is assessed as much higher; whereas according to UNCHR 7 million Syrians rely on aid, and 3.1 million children are in need because of the Syrian war, the number of Internally Displaced Persons (IDPs) is 4.25 million as of 6 May 2013, out of a total of the Syrian population of 21.4 million;
 B. whereas the United Nations in February estimated that around 70.000 people, mostly civilians, had died because of the violence inSyria, whereas it is likely this number has increased significantly;
 C. whereas the needs of Syrian citizens are growing rapidly and are most severe in the conflict- and opposition-controlled areas; whereas Syria's main cities have been devastated by the conflict; whereas significant parts of Deir Az Zor, Hama, Homs and Idlib have been reduced to rubble;
 D. whereas the destruction of essential infrastructure including schools and hospitals, the devaluation of the currency, rising food prices, shortage of fuel and electricity and lack of water, food and medicine has had an impact on the majority of Syrians;
 E. whereas physical access to people in need of humanitarian assistance inSyriaremains severely constrained and depends on Syrian government's cooperation;
 F. whereas all parties to the conflict have the obligation to abide by International Humanitarian Law and to protect civilians;
 G. whereas UN-agencies have reported making progress in organizing inter-agency aid convoys across conflict lines, to government-controlled, opposition-controlled and contested areas; whereas both bureaucratic obstacles and checkpoints throughout the country (both government and opposition controlled) hinder an effective humanitarian response in all areas of Syria;
 H. whereas according to UNHCR the following number of refugees (including awaiting registration) are present in the following countries as of 6 May 2013: Turkey 324,731; Lebanon 457,186; Jordan 448.370; Iraq 144.016; Egypt 62.502 and Morocco, Algeria, Libya 10,052 (registered); whereas the actual number of Syrian refugees is much higher as many have not registered;
 I. whereas registration remains the key mechanism through which persons of concern are identified, protected and assisted, particularly new arrivals with specific needs, including the disabled, the elderly and unaccompanied minors and separated children, in order to provide prioritized assistance;
 J. whereas the numbers of people in need have grown rapidly and will continue doing so; whereas the UNHCR estimates that the number of Syrian refugees could reach 3,5 million by the end of 2013 if the violence in Syria does not end; whereas since February 2013, 8.000 people have been crossing Syria's borders every day;
 K. whereas approximately three-quarters of the Syrian refugees in neighbouring countries are living outside camps in urban settings;
 L. whereas host communities and neighbouring countries, in particular Lebanon, Jordan, Turkey and Iraq, have maintained an open-border policy throughout the crisis; whereas their ability and capacity to absorb and shelter the increasing stream of Syrian refugees is stretched to its limits and they need urgent support to continue keeping borders open and assisting refugees, and supporting their infrastructure;
 M. whereas humanitarian access toSyriadepends on neighbouring countries;
 N. whereas the influx of Syrian refugee is causing challenges in neighbouring countries, including through the effects of economic decline, inflation and unemployment;
 O. whereas affording rent is becoming a growing concern for many Syrian refugees as overcrowding and the competition for shelter is growing and prises rise; whereas refugees are experiencing significant income-expenditure gaps, limited work opportunities, exhaustion of savings and rising debt levels;
 Q. whereas competition over jobs and rising food prices are factors that exacerbate tensions between local and refugee populations, particularly in Lebanon and Jordan, that are together hosting more than 1 million refugees;
 R. whereas continuing efforts are necessary to increase support to hosting communities to ease tensions and lift the burden off these communities;
 S. whereas the International Rescue Committee (IRC) is currently responding to the Syrian refugee situation in Jordan, Lebanon and Iraq, focussing primarily on women and children, populations with special needs but often underserved in urban refugee communities;
 T. whereas neighbouring countries have opted for different hosting methods; whereasLebanonhas opted for a « no camp » policy and has largely absorbed refugees in local communities (across over 1,200 villages); whereas the rural spread of the refugee population demands a complex urban registration programme;
 U. whereas the Syrian crisis has become an critical threat toLebanon, with its population grown by more than 10% (registered Syrian refugees) or 25% (estimate of Syrian refugees actually in the country);
 V. whereas approximately 350.000 Syrians are staying in 23 refugee camps inTurkey,JordanandIraq; whereas another six refugee camps are under construction: four inTurkeyand one each inJordanandIraq;
 W. whereas funding constraints continue to impede the timely and efficient delivery of basic humanitarian assistance; whereas SHARP requires a total of US$563 million in funding to address the needs of people in Syria; whereas as of 6 May, the response plan was only 61 per cent funded;
 X. whereas the current UN Regional Response Plan (RRP4) is being revised for until December 2013; whereas a new appeal for funding will be launched by the UN on 28 May 2013, which will reflect the rising number or refugees fleeing Syria and their continuing needs, as well as greater support for host governments and communities, and will likely amount to US$3billion;
 Y. whereas reports by aid organisations state that only between 30 and 40 per cent of the total pledged money so far by the international community has been effectively provided;
 Z. whereas the level of humanitarian assistance risks becoming unsustainable; whereas all humanitarian actors involved need levels of financial support that are out of proportion with the established humanitarian aid budgets of traditional donors; whereas extraordinary funding mechanisms to meet basic needs for the Syria crisis have to be established;
 AA. whereas the European Union has been the largest donor, with a total of EUR 600 million in humanitarian assistance (ECHO EUR 200 million, Member States over EUR 400 million); whereas the provision of humanitarian aid funded by the Commission is channelled through mandated and professional international organizations in accordance with humanitarian principles;
 AB. whereas 400.000 Palestinian refugees are affected withinSyria; whereas almost 50.000 Palestinian refugees are registered by UNWRA inLebanon; whereas in 2012Jordanclosed its border to Palestinians fleeing the conflict inSyria;
 AC. whereas in the Jordanian Zaatari Camp safety and security have degenerated, with theft and fires taking place; whereas Zaatari became the 4th largest city of Jordan, housing over 130 000 people; whereas riots and violent protests in the refugee camps are motivated by poor living conditions and delays in receiving assistance;
 AD. whereas overall insecurity continues to endanger the lives in the camps, affecting the humanitarian workers; whereas aid workers have been attacked, hospitalized, and even killed, during aid distributions, and journalists beaten;
 AE. whereas according to international organizations, women, including girls, in refugees camps, are the victims of sexual violence and rape which is also used as a weapon of war; whereas there are no appropriate medical aid for Syrian refugee survivors of sexual violence; whereas this lack of access to timely and compassionate care is a human rights violation;
 AF. whereas according to several sources, pleasure marriages or Mutah (Islamic temporary marriages) are flourishing in Syrian refugee camps as Arabs go to the camps to exploit and abuse women and girls,
 AG. whereas the risk of spill-over effects of the Syrian war risk transitioning from incidental to structural; whereas the EU and the international community cannot afford an additional catastrophe; whereas a pan-regional political, security and humanitarian disaster would overwhelm the international response capacity;
 AH. Whereas the rise in temperatures increases the outbreak of epidemics;
 1. Recalls that the Syrian government bares primary responsibility to take care of the wellbeing of its people, as well as for access for humanitarian aid access to all Syrians according to international humanitarian law;
 2. Urges all parties to the conflict to uphold and respect basic International Humanitarian Law;
 3. Pays tribute to host communities andSyria's neighbouring countries, in particularJordan,Lebanon,TurkeyandIraq, for their resourcefulness in providing shelters and humanitarian aid to families fleeing the war inSyria;
 4. Is extremely concerned about the dangerous tipping point that these host countries and communities are approaching, the domestic challenges host countries and populations face, as well as the spill-over effects of the war in Syria and the influx of Syrian refugees that could set off unprecedented regional instability;
 5. Welcomes the immense humanitarian aid operation to which international and local organizations contribute and pays tribute to all humanitarian aid and health workers, international and local, for their courage and perseverance;
 6. Supports and welcomes the considerable contributions by the European Commission and the EU Member States to the international humanitarian assistance programmes, and the political leadership by Commissioner Kristalina Georgieva;
 7. Urges the European Commission to present a comprehensive aid package – which serves as an example to other major donors – to address the humanitarian crisis in Syria and the neighbouring countries, based on three pillars: i) increased humanitarian assistance (ECHO), ii) support for host countries to strengthen local communities and to increase capacity and infrastructure (DEVCO),iii) the swift introduction of macro financial assistance packages for Lebanon and Jordan;
 8. Stresses that the EU has a particular responsibility for stability and security in its neighbourhood, calls on the HR/VP  and the Commissioner for Enlargement en Neighbourhood Policy to ensure that the EU plays a leading role in preventing the war in Syria from spilling over into neighbouring countries;
 9. Calls on the HR/VP, in close coordination with EU Member States in the UN Security Council, to push for a UN Security Council Resolution that allows the humanitarian aid deliveries in all areas ofSyriaand ensures the protection of humanitarian aid workers;
 10. Calls on all countries, EU Member States in particular, to swiftly fulfil their pledges made at theKuwaitdonor conference on 30 January 2013; calls on the EU and the international community to set up accountability mechanisms to ensure that all pledged funds reach their designated beneficiaries;
 11. Urges all regional host governments to uphold the principles of non-refoulement and equal treatment of refugee; urges the UN in close cooperation with donors to solve the continuous insecurity and law and order problems in refugee camps;
 12. Denounces sexual violence inSyria's war, which is also used as a war crime, and urges the EU and the international community to specifically allocate resources to end sexual violence and calls on the host communities to provide proper medical treatment to those, victims of sexual violence.
 13. In the light of the growing needs of the Palestinian refugee population inSyriaand in neighbouring countries, calls on UNRWA to generously support ongoing efforts to shore up their resilience, and to minimize their suffering and displacement.
 14. Reiterates its support for a political solution to the conflict in Syria; believes that the key to the solution of the conflict lies in facilitating the Syrian led political process that will promote a credible and effective political solution with those genuinely committed to the transition;
 15. Reaffirms the priority to keep the humanitarian and political tracks separated to facilitate access to those in need.
 16. Instructs its President to forward this resolution to the Council, the Commission, the High Representative of the Union for Foreign Affairs and Security Policy/Vice-President of the Commission, the parliaments and governments of theMemberStates, and all the parties involved in the conflict inSyria.