Enfants : Objectif zéro violence !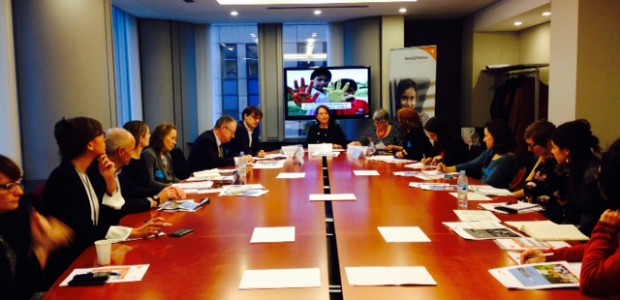 Membre de la commission LIBE du Parlement européen et vice-présidente de l'intergroupe « Droits de l'enfant », Nathalie Griesbeck co-organisait ce matin, aux côtés de l'ONG Wolrd Vision une table-ronde intitulée « Eliminating Violence against Children – Improving Information and Accountability ».
Regroupant des « responsables » politiques et techniques à la fois des institutions européennes (Parlement européen et Commission) et du monde associatif, cette table-ronde visait à explorer les différentes perspectives pour parvenir à l'élimination de la violence contre les enfants dans l'UE et dans le monde et à débattre des options concernant le développement de mécanismes appropriés de contrôle, de suivi et de « responsabilisation » dans ce domaine.
World Vision
World Vision ou Vision du Monde est une ONG de solidarité internationale chrétienne, fondée le 22 septembre 1950 par Robert Pierce. Elle dispose de bureaux dans 97 pays du monde. Elle est la 1ère ONG de parrainage d'enfants au monde (en 2012, 3,9 millions d'enfants parrainés dans 97 pays contre 32 000 enfants dans vingt pays en 1970). L'association Vision du Monde aide les enfants les plus démunis du monde à bien grandir. Grâce notamment au parrainage d'enfants, ils aident les familles et les communautés à se développer sur le long terme, et à construire un avenir meilleur pour leurs enfants.
Membre de la commission LIBE du Parlement européen et vice-présidente de l'intergroupe « Droits de l'enfant », Nathalie Griesbeck travaille régulièrement avec eux ; par exemple, récemment, en mai 2015, elle a soutenu leur campagne « Child Health now – Getting to Zero », leur campagne permanente consacrée au retard de croissance chez les enfants, à l'enregistrement des naissances et à la nécessaire présence de personnel qualifié pendant les accouchements.
Discours de Nathalie Griesbeck pour l'introduction de cette conférence
Dear colleagues,
Dear guests,
I would like to welcome you all and to thank you all for being here, for this Roundtable on « the elimination of violence against children ».
As Member of this Parliament and as Vice-President of the Intergroup on Children rights, I am very happy to host it.
And I am very happy to host it together with World Vision. And I want to congratulate you, for your great work and continuous commitment to promote the rights of the children.
*
This event aims at exploring the perspectives towards the elimination of violence against children in and outside the EU, in particular in regions where we are facing serious humanitarian situations:
I'm thinking : children refugees
I'm thinking : Syria and Middle East
I'm thinking : Africa ; I'm thinking Boko Haram
I'm thinking : Ukraine
…
Unfortunately, the list is very long … too long.
*
So, among the many challenges we are facing, the issue of violence against children is of the upmost importance.
We are talking about many forms of violence: children are harmed, trafficked, abused, sexually exploited…
Violence against children shall be a major concern for us, it has a grave impact on their life, on their personality, leading to humiliation, guilt and anger.
*
Violence against children is a chronic issue in a large number of countries. It is also a very political issue.
Of course, no society and religion approve of violence against children ;
However, violence is often happening in the private sphere, it's rarely public.
And Governments, sometimes, do not want to interfere with private life or are scared to
Besides, some States do not want to invest too much in the fight and detection of violence, because then, they face the risk that it will show the real extent of the problem. And that, some States want to hide it.
That's why, this fight against violence is difficult.
That's why, we need to measure violence
That's why, we need accountability mechanisms.
Accordingly, this event also aims to discuss how to develop appropriate accountability mechanisms in this area. How can governments act and commit themselves to fight this unacceptable violence? How to ensure their accountability? How to control?
And we are also here to discuss World Vision's two new reports on « Getting to Zero Violence against children and accountability ». Two very relevant reports that formulate key goals and key recommendations in « what needs to be done ».
Surely Education is a key priority
But also, access to support services and to Justice
Also the implementation of key and efficient indicators, so that violence can be measurable and visible
*
These are the questions we will try to answer today and I am looking forward to listening to everybody's interventions.
*
In conclusion, I just want to quote M. Paulo Sergio Pinheiro, UN Secretary General on violence against children: « Children are not mini human beings with mini human rights. As long as adults continue to regard children as mini human beings, violence against children will persist ».